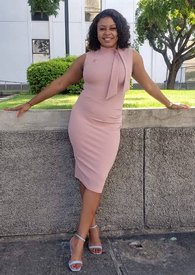 Motivated Monique
March 2, 2023
NAME:          Monique Evans  
JOB TITLE/POSITION:        Secretary   
DIVISION/DEPARTMENT/UNIT:  Dental Health Unit
WHAT IS YOUR CORE FUNCTION: Assisting with oral health reports, meetings and other administrative duties.
MY VISION FOR THE MINISTRY OF HEALTH & WELLNESS IS: To provide better oral health across Jamaica.
WHAT DO YOU ENJOY ABOUT YOUR JOB: having a Director that listens and allows you to expand yourself.
WHICH HIGH SCHOOL DID YOU ATTEND: Holy Childhood High School
FAVOURITE CHILDHOOD MEMORY: Going to church with my Mom.
FAVOURITE COLOUR: Green
WHAT WOULD BE YOUR DREAM VACATION: Taking my Mom and sisters to Dubai.