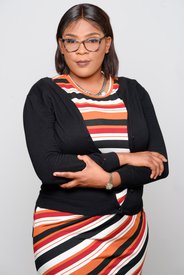 Bridgeport Bernard
Nov. 29, 2022
NAME: Vanessa Bernard
JOB TITLE/POSITION: Secretary  
DIVISION/DEPARTMENT/UNIT: Organizational Development and PMAS
WHAT IS YOUR CORE FUNCTION: Providing secretarial support for the effective operation of the unit.
MY VISION FOR THE MINISTRY OF HEALTH & WELLNESS IS: My vision for the Ministry of Health and Wellness is for the organization to get to a point where all records, data and information obtained and provide are vetted and accurate where the systems used to perform daily tasks are functional and operational.
WHAT DO YOU ENJOY ABOUT YOUR JOB: I enjoy the customer service aspect of my job. I love assisting and meeting new people.
WHICH HIGH SCHOOL DID YOU ATTEND: Bridgeport High School
FAVOURITE CHILDHOOD MEMORY: None
FAVOURITE COLOUR: Purple, white and pink
WHAT WOULD BE YOUR DREAM VACATION:  My dream vacation is to travel the world, getting a chance to learn and explore different culture and sharing different ideals.