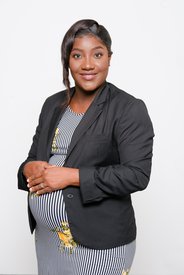 Christmas Kerry-Ann
Nov. 29, 2022
NAME: Kerry-Ann Shaw-Walker
JOB TITLE/POSITION: Senior Human Resource Officer, PMAS
DIVISION/DEPARTMENT/UNIT: Organizational Development and PMAS
WHAT IS YOUR CORE FUNCTION: To fully implement all aspects of PMAS.
MY VISION FOR THE MINISTRY OF HEALTH & WELLNESS IS: My vision for the Ministry is in alignment with its Vision Statement - "To work in a healthy environment around healthy people".
WHAT DO YOU ENJOY ABOUT YOUR JOB: Providing coaching and guidance to staff.
WHICH HIGH SCHOOL DID YOU ATTEND: Holy Trinity High School
FAVOURITE CHILDHOOD MEMORY: Christmas time when most of the family would come together.
FAVOURITE COLOUR: Red
WHAT WOULD BE YOUR DREAM VACATION:  A weekend at Moon Palace Hotel with my husband and children.