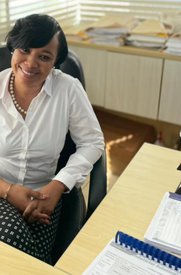 SHERYL DENNIS WRIGHT
May 17, 2021
NAME: SHERYL DENNIS WRIGHT
JOB TITLE/POSITION: LEGAL OFFICER
DIVISION/DEPARTMENT/UNIT: LEGAL SERVICES UNIT
WHAT IS YOUR CORE FUNCTION: Providing legal guidance on matters affecting the Ministry and its departments in keeping with its Governance, Global Health and Health Care mandates, including matters related to the review and amendment of existing (or the development of new) Legislation and Regulations; the review and preparation of Agreements/ Contracts; preparation of legal opinions regarding medico-legal claims including those related to medical negligence and motor vehicle accidents; representing the Ministry and its departments in Industrial Relations matters, Tribunal and Disciplinary Hearings; and providing general legal support to the Western Regional Health Authority.
MY VISION FOR THE MINISTRY OF HEALTH & WELLNESS IS: A healthy working environment which is employee-centred and which facilitates the professional development/growth of employees while promoting productivity, as we seek to contribute to creating a health system which guarantees access to quality health care for the population.
What does being a Change Champion mean to me?
It means being a part of a support team to successfully implement strategies and methods for effecting change and helping other employees to accept and adapt to change.