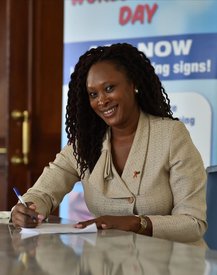 SANDRENE DUNKLEY-GALLIMORE
May 17, 2021
NAME: SANDRENE DUNKLEY-GALLIMORE
JOB TITLE/POSITION: MANAGER, STRATEGIC HUMAN RESOURCE MANAGEMENT & ADMINISTRATION
DIVISION/DEPARTMENT/UNIT: HPPB-HIV/STI/TB UNIT
WHAT IS YOUR CORE FUNCTION: My core functions include managing the human resource, administration and overall technical and financial progress of Administrative Component of the National HIV/STI Programme.
MY VISION FOR THE MINISTRY OF HEALTH & WELLNESS IS: My vision is to create a high-performance team by fostering an environment that focuses on the team's overall development.  A safe space (tangible and intangible) that rewards performance, encourages mentorship, and one where all opinions are welcomed and respected, regardless of rank. The desired outcome is evidential in the achievement of personal goals and excellent job performance.
What does being a Change Champion mean to me?
​​​It was Mahatma Gandhi who said, "you must be the change you wish to see in the world'.  I strongly believe a "Change Champion" is one who embodies this quote and understands that change begins with a mindset change.  Firstly, a "Change Champion" has clear values and seeks to align these values with their organizations.  Secondly, a "Change Champion" uses a utilitarian approach to drive change.  Finally, a "Change Champion" is committed to using his/her skills and resources to solve problems and challenges the status quo through thought leadership.