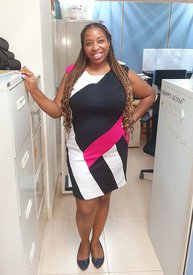 Renee Thompson
May 17, 2021
NAME: Renee Thompson
JOB TITLE/POSITION: Manager, Dietetics Service
DIVISION/DEPARTMENT/UNIT: Health Promotion and Protection Division
WHAT IS YOUR CORE FUNCTION:
Collaborate in the development, implementation and evaluation of National Policies and Programme on Dietetics.

Develop, field test and equip government hospitals with standards and norms to guide the operation of Dietary Services in public hospitals.

Establish monitoring and evaluation system for Dietetics data to inform programme implementation.

Provide technical guidance to Regional Health Services on all aspects of dietetics services.

Set national directional priorities for the dietetics component of health care, providing a critical link between the Ministry of Health and the Regions.
MY VISION FOR THE MINISTRY OF HEALTH & WELLNESS IS:
An organization that provides optimum and affordable healthcare, and promotes all aspects of wellness, in a safe, clean, and positive environment to all internal and external clients.
What does being a Change Champion mean to me?
Heraclitus said it well: "the only constant in life is change". It is prudent, therefore, to adjust and adapt in life. This is the perspective I will share with my colleagues and actively work with them on this new journey.