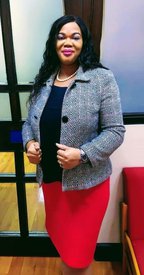 Claudine Goodin
May 17, 2021
NAME: Claudine Goodin
JOB TITLE/POSITION: Project Management Specialist (acting)
DIVISION/DEPARTMENT/UNIT: Project, Planning and Implementation Unit
WHAT IS YOUR CORE FUNCTION:
Conduct pre-implementation evaluation and review implementation schedules. Monitor and evaluate project progress to ensure completion within the scheduled period and technical specifications.

Monitors expenditure to ensure the efficient scheduling of resources to guard against cost overruns.

Monitors the performance of contracts to ensure compliance with the terms and conditions of their contracts for each project.

Prepares/modifies critical path analysis as a guide toward performance to ensure activities are achieved.

Conducts post-implementation evaluation of projects to determine if objectives were achieved in a timely and cost-effective manner.

Provide project management support to Director, Civil Works, Project Engineer, Quantity Surveyor, and Project Architect.

Assist/coordinate annual project budget.

Examine project reports, ensure variances are outlined and identifies areas for immediate/priority action.
MY VISION FOR THE MINISTRY OF HEALTH & WELLNESS IS:
My vision for PMAS is that it will facilitate the overall improvement of service delivery, recognize and reward public servants without prejudice, stereotypes, bias, and discrimination and seek to hold employee accountably. To see this system nullify personal opinion and maintained professionalism and integrity in the enhancement of teamwork which will be beneficial in the overall performance of the Ministry of Health and Wellness (MoH&W).
What does being a Change Champion mean to me?
I am encouraged and inspired to participate in this change management process in the implementation of PMAS that will facilitate employee's result-oriented and time-bound performance. A system that will encourage training, coaching and development of employees geared towards achieving the MoH&W goals and objectives is a well-needed change.