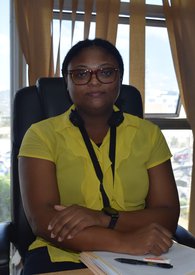 Camille Phillips
May 17, 2021
NAME: Camille Phillips
JOB TITLE/POSITION:     Administrator
DIVISION/DEPARTMENT/UNIT: Projects and Health Facilities Maintenance Division
WHAT IS YOUR CORE FUNCTION: To provide comprehensive and robust administrative support service to the Division and its members in assist them to delivering a high quality of service when executing their function.
MY VISION FOR THE MINISTRY OF HEALTH & WELLNESS IS: My vision for the Ministry of Health and Wellness is to achieve first world health service delivery to ensure the continued health and lifestyle values that benefit growth and development.

What does being a Change Champion mean to me? Being a change champion to me is being able to encourage as well as foster growth and development of the people around me to allow for them to achieve a better version of themselves by embracing change and working towards our common and personal goals.