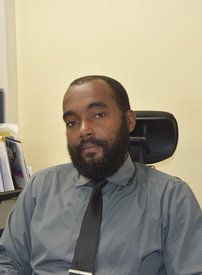 Calvin Goodin
May 14, 2021
NAME: Calvin Goodin
JOB TITLE/POSITION:     Technical Support Service Administrator (Acting)
DIVISION/DEPARTMENT/UNIT: System Information and Technolgy Unit (SITU)
WHAT IS YOUR CORE FUNCTION: To provide Technical Support for internal and remote users and coordinate ICT response for the  Ministry and its related agencies.
MY VISION FOR THE MINISTRY OF HEALTH & WELLNESS IS: My vision for the Ministry of Health 
and Wellness is transforming how we operate as a Government entity.  The transformation in__ 
how we deliver services to our internal and external customers; this should be at a level where_ 
customers are always satisfied despite the many challenges we face day to day, such that_____
we treat all our customers with responsiveness and respect. 

What does being a Change Champion mean to me? 
Being a Change Champion, as the name suggests, is being a Champion for Change. We are apart 
of an organization that is integral in nation-building and the care and treatment of every 
Jamaican be it directly or indirectly. With this in mind, I strive to add value and use resources 
wisely to facilitate extensive and reasonable use. Being a Change Champion for me means 
accepting this responsibility and endeavouring to make a positive impact in how I execute  my 
duties.