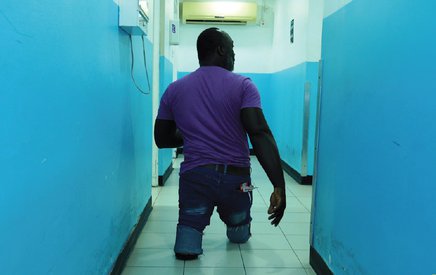 'New limb, new life'
May 17, 2023
KINGSTON, Jamaica. Tuesday, May 16, 2023: The Ministry of Health & Wellness is to invest $50 million in making prostheses available to suitably qualified persons, to aid their return to productivity and bolster their social participation.
The announcement was made by the Minister of Health & Wellness, Dr. the Hon. Christopher Tufton, during his Sectoral presentation in Gordon House on Wednesday, May 3.
According to the Minister, there is a direct link between the growing number of persons living with non-communicable diseases (NCDs), such as diabetes, and amputations, together with the inability to get back to productive living.
"When you lose an arm or a leg from diabetes or a road traffic accident, not only is this a source of sadness and grief for you, your family or loved ones, it is also a life-restricting condition," Dr. Tufton noted.
In a 2019 study published by the National Library of Medicine, National Centre for BioTechnology Information, it was found that in amputees 'socially, 90% of the patients no longer practiced leisure activities… [and] at the economic level, 87% of patients had a decreased monthly income. Factors that bear direct correlation to the functional outcome of patients were the level of amputation…'
"In other words," the Minister said, "when persons are impacted by conditions such as diabetes, where they have to remove the lower limbs, there is a direct impact on the quality of life of the individual and a net negative economic impact on the person, the household, and the wider labour market."
Health Ministry invests in prosthetic partnership for persons with disabilities
It is against this background that the Ministry is partnering with the Jamaica Council for Persons with Disabilities to provide prostheses to members of the public.
"Let me remind us that the provision of healthcare is the provision of wellness. Therefore, we must provide the interventions and strategies for the thousands of Jamaicans who are negatively impacted by the outcomes of NCDs, one of which is amputation," the Minister said.
According to the 2016/2017 Jamaica Health and Lifestyle Survey, one in three Jamaicans has hypertension, one in eight has diabetes and one in two is overweight or obese. This latter is a significant risk factor for developing a NCD.