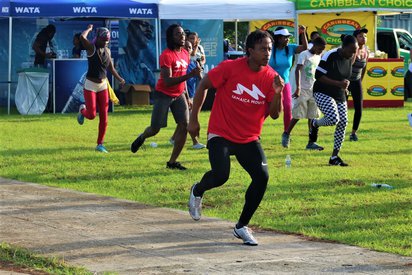 Health Ministry to host a Weekend of Wellness (WOW)
Sept. 4, 2023
KINGSTON, Jamaica. Monday, September 04, 2023:  The Ministry of Health & Wellness will commemorate Caribbean Wellness Day with a 'WOW' – a Weekend of Wellness featuring a series of health and wellness activities opened to the public over the week of September 8-10, 2023.
To commence the weekend of celebration, the Ministry will kickstart with a Vitality Fest on Friday, September 8, starting at 9:00 a.m. on Knutsford Boulevard in New Kingston. The event, which will run until 2:00 pm, will focus on 'Fitness, Food, and Wellness Checks (BMI, blood sugar, blood cholesterol)'. Members of the public will also be engaged in fitness sessions and food sampling and enjoy a lunch hour concert and giveaways.
The WOW will continue from at 4:00 p.m. to 8:00 p.m. on Saturday, September 9 with a Sweat Fest in partnership with The University of Technology, Jamaica. There, the public will get the chance to participate in the 3K Fun Walk/Run, traverse the obstacle course; and 'work up a sweat' with the Sweet Energy Fitness and Body by Kurt.  The event is free, and no pre-registration is required to participate.
"I am inviting the public to fully participate in the exciting activities slated to take place over the weekend. This is a great opportunity for you to have your wellness checks done while being entertained and winning prizes. I make a special appeal to businesses to allow their staff members time to get their health checks done as we seek to reduce the burden of NCDs", Minister Tufton said.
To conclude the weekend of celebration, there will be an invitation-only brunch for senior officials from Government and Corporate entities. This will provide the opportunity for the Ministry to leverage these stakeholders to institute the Guide for the promotion of healthy eating in workplaces. This Guide was developed to provide support to employers who seek to encourage employees to improve and enhance their health.
"I am asking businesses and community members to give their staff the time to participate in the events slated to take place over the weekend. These events will provide insights on how to make healthier food choices, demonstrates how to stay activity, and give patrons access to free screen – please make use of the opportunity." Minister Tufton said.
Caribbean Wellness Day (CWD) is one of the regional responses to the threat posed by non-communicable diseases (NCDs) and was conceptualised by the Heads of Government of the Caribbean Community (CARICOM) and formed part of the Port of Spain Declaration.
-END-