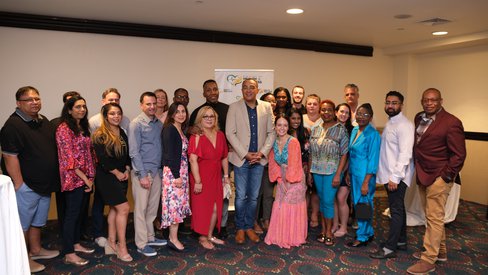 80 Medical Professionals Arrive in Country to Support Public Health
Jan. 17, 2023
Close to 80 Jamaicans and friends of Jamaica are in the island to perform surgeries at three main public health facilities, namely, Bustamante Hospital for Children, University Hospital of the West Indies and the National Chest Hospital. This mission includes 10 medical professionals, who will work under the PROJECT CODECARE programme, geared at reducing the backlog of elective surgeries.
Two teams are also visiting from the Organization for International Development including a 23-member team, who will focus on cardiac cases and another team focusing on OBGYN cases to help to clear the backlog of cases for patients with fibroid issues.
The members of the delegation were welcomed and thanked by the Minister of Health & Wellness, Dr. the Hon. Christopher Tufton, during a welcome reception held in their honour at the Jamaica Pegasus Hotel in New Kingston on Sunday, January 15, 2023.