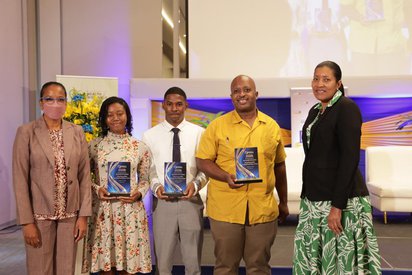 2023 Health Research Conference Winners Lauded
Nov. 20, 2023
KINGSTON, Jamaica. Friday, November 17, 2023: The Ministry of Health and Wellness today concluded its annual flagship National Health Research Conference (NHRC), with the presentation of awards to the most outstanding student and professional researchers.       
The winners from the 2023 Conference are Dr. Jordan Eaton (Spanish Town Hospital) -Winner - Most Impactful, Best Student and Best Overall Poster Presentation; Dr. David McGowan (CRH)- Winner Most Impactful Research & Presentation; Mr. Amarley Wright, Student at UWI - Best Oral Student Presentation; and Miss Selena Lewis (CAIHR)- Best Overall Oral Presentation.
The three-day conference themed "Taking Responsibility: Our Health and Wellness in Focus", featured quality research abstracts from different health-related areas, as well as a panel discussion on matters surrounding health. The hybrid event had its opening ceremony on Wednesday, with representatives from the Pan American Health Organization (PAHO)/World Health Organization (WHO), the Caribbean Public Health Agency (CARPHA) and the Planning Institute of Jamaica (PIOJ) bringing remarks. The feature address was delivered by Dr. the Hon. Christopher Tufton, MP, Minister of Health & Wellness.
"As we take note of the range of offerings at this conference, they reflect, in one way or another, a number of the Ministry's strategic priorities, among them the prevention and care management of NCDs and the reform of primary health care. I, therefore, welcome the insight to be gained from the research that is to be shared – from those looking at the nutritional status of our primary and secondary school children, to the impact of screen time activities on physical activity levels among adolescents, among others.", Dr. Tufton said during his address.
The National Health Research Conference is a significant forum for showcasing a wide range of medical, biomedical, and scientific research that can be used to improve policy and practice for the Ministry and the wider public health system.
-END-