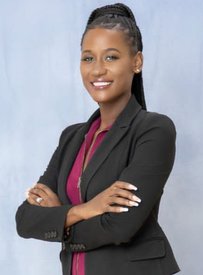 Dynamic Tracey
Sept. 11, 2023
NAME:  Tracey Sterling-Hanson
JOB TITLE/POSITION: Environmental Engineer
DIVISION/DEPARTMENT/UNIT:  NPHL/ Environmental Health
WHAT IS YOUR CORE FUNCTION? Supervise technical team, manage the daily technical operation of the Environmental Health lab, and plan, organize and monitor environmental and occupational health programmes.
MY VISION FOR THE MINISTRY OF HEALTH & WELLNESS IS:
To promote, improve, and achieve a safe, clean, and protected environment with sustainability as a priority.
To implement and ensure high-quality and comprehensive environmental health services.
WHAT DO YOU ENJOY ABOUT YOUR JOB:  I find fulfilment in contributing to the safety of pools, rivers, beaches, and air quality for the nation. I appreciate the dynamic nature of my job and cherish the opportunity to work with my team to solve problems, as this fosters creativity and innovation.
WHICH HIGH SCHOOL DID YOU ATTEND:  William Knibb Memorial High School and Ocho Rios High School
FAVOURITE CHILDHOOD MEMORY: Summertime in Ocho Rios, enjoying the cool sea breeze at night, and the beauty of the people, beaches, rivers and falls during the days.
FAVOURITE COLOUR: Burnt orange and most shades of green.
WHAT WOULD BE YOUR DREAM VACATION: A tour of Europe.