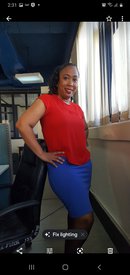 Miecha Parkinson
May 17, 2021
NAME: Miecha Parkinson
JOB TITLE/POSITION: Branch Secretary
DIVISION/DEPARTMENT/UNIT: EMERGENCY , DISASTER MANAGEMENT AND SPECIAL SERVICES BRANCH (EDMSSB
WHAT IS YOUR CORE FUNCTION: Assisting the Director of EDMSSB along with assisting with the daily  functions of the EOC.
MY VISION FOR THE MINISTRY OF HEALTH & WELLNESS IS: One person caring about another represents life's
What does being a Change Champion mean to me? It feel good to be acknowledge.