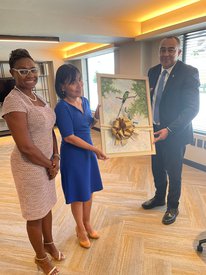 Outgoing UNICEF Country Representative hailed for sterling service
Oct. 7, 2022
KINGSTON, Jamaica. Friday, October 7, 2022: Minister of Health & Wellness, Dr. the Hon. Christopher Tufton has hailed the outgoing UNICEF Country Representative, Miss Mariko Kagoshima for her sterling leadership of the agency for more than two years. UNICEF has been a strategic partner of the Ministry of Health & Wellness, collaborating on programmes and activities for children and adolescents in Jamaica.
"The Ministry of Health & Wellness is grateful to have had Miss Mariko Kagoshima as the UNICEF Representative to Jamaica, as her expertise was not only limited to covering specific programme areas, but also extended to emergency and humanitarian responses," Dr. Tufton noted.
With support from various governments and international organizations, including the COVAX facility, UNICEF has donated medical supplies and vaccines for Jamaica's COVID-19 response. The entity was also instrumental in the deployment of a vaccination management software with a registration and scheduling module that made the process of registration seamless during the rollout of the National COVID-19 Vaccination Implementation Programme.
"Her humanitarian and emergency experience were visible during the peak of Jamaica's response to COVID-19, and the Ministry's sensitization mental health programmes for children," Dr. Tufton added, while speaking at the farewell function held recently in her honour. 
For her part, Minister of State in the Ministry of Health & Wellness, the Hon. Juliet Cuthbert Flynn said, "The work Miss Kagoshima has done to the benefit of Jamaicans has not gone unnoticed and we are pleased to recognize her in this way. The Ministry believes in sustaining partnerships, and is looking forward to maintaining its relationship with UNICEF, to continue to foster positive health outcome. We wish her the very best."