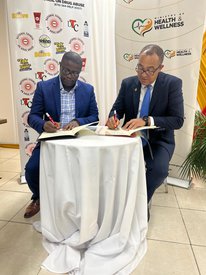 National Drug Prevalence Study launched
March 2, 2023
Household survey to inform alcohol policy
KINGSTON, Jamaica. Wednesday, March 1, 2023: The Ministry of Health and Wellness today launched with its agency, the National Council on Drug Abuse (NCDA) the 2023 National Drug Prevalence Study to investigate psychoactive substance use across Jamaica.
Funded by the National Health Fund (NHF), to the tune of 17.5 million dollars, the national household survey will generate data with a focus on alcohol misuse among the population. Its findings will inform a national alcohol policy as well as the development of evidence-based prevention, treatment and harm reduction programmes.   

"This study is very important as part of the overarching response to substance use.  Part of our response is to gather information even as we reform, build resilience and advance a healthier society," said Minister of Health and Wellness, Dr. Christopher Tufton while addressing the launch ceremony.

The launch of the drug prevalence study follows a Rapid Situation Assessment on Substance Use in Secondary Schools. Conducted in May 2022, the assessment disclosed, among other things, that the party drug 'molly' was among the emergent substances in demand by secondary school students. Common use of alcohol, including during school hours, was also noted.
         
Alcohol Misuse & Policy Development
While the household survey will take into consideration all psychoactive substances in use by the populace, emphasis will be placed on alcohol misuse.
"Globally, alcohol consumption contributes to 3 million deaths annually and to the disabilities and poor health of millions of people. At the local level, the 2016 National Drug Prevalence Survey found that 15% of the Jamaican population (aged 12-65 years) was at a medium to high risk for alcohol dependence," the Minister added.
Regulations on substance use include advancement of the National Policy for the Reduction of the Harmful Use of Alcohol. Expected outcomes of this policy include a 10% reduction of the harmful use of alcohol to result in an overall reduction of premature mortality due to non-communicable diseases by one third; and strengthened programmes to address the harmful use of alcohol.   

The 2023 National Drug Prevalence Study will be carried out in conjunction with the Centre for Leadership and Governance (CLG) at the University of the West Indies (UWI), Mona and the Inter-American Drug Abuse Control Commission of the Organization of American States (OAS). The country's last drug prevalence survey was conducted in 2016 and prior to that, in 2001.             
###