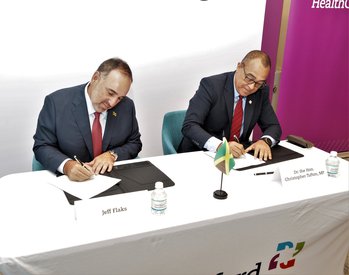 Health Ministry inks CODE CARE agreements with overseas entities
Sept. 29, 2022
KINGSTON, Jamaica. Thursday, September 29, 2022: The Ministry of Health & Wellness has signed agreements with the University of Miami Health System in Florida and Hartford Healthcare in Connecticut to support the implementation of CODE CARE, a project to expand the available human resources for health in Jamaica and to improve wait times for elective surgeries.
The Memoranda of Understanding (MOU) were signed by Minister of Health Wellness, Dr. the Hon. Christopher Tufton and representatives from the two entities last Monday (Sept. 19) and Wednesday (Sept. 21).
The MoU sees the parties agreeing to support:
increasing the number of elective surgeries undertaken in health facilities;

increasing the availability of medical and nursing professionals to assist with conducting elective surgeries to decrease the surgical backlog; and

academic and professional exchanges to enable skill and knowledge transfer.
Project CODE CARE was announced by Dr. Tufton in his Sectoral Presentation to Parliament earlier this year. It provides for:
short-term agreements with nurses in the diaspora – and in particular operating theatre nurses – to serve the health system in Jamaica;

the repair and maintenance of operating theatres to the tune of some $700 million; as well as

partnerships with private sector health facilities to provide surgery and recovery spaces to augment existing facilities. Only last week, an initial four contracts were signed with private sector entities in western Jamaica for the use of their facilities to do surgeries.
"CODE CARE also has a longer-term objective: MOUs with overseas health systems to build capacity for training more specialist nurses through clinical faculty sharing and exchanges; as well as clinical rotation in Jamaica and outside, including in US hospitals," explained Minister Tufton.
"We are short on both in Jamaica, which restricts the numbers we can train. For example, we have not trained specialist nurses in oncology (cancer care) and emergency nursing for some time because there are no lecturers to teach the subjects," he added.
The inked deals with the two US entities is intended to address this and other needs.
"I visited the US two months ago to pitch the concept and returned this month (September) to sign the MOU with the University of Miami Health and Hartford Health. Both have agreed to work with us on joint training in the areas where we have shortages, using in-person, technology and simulation for training," noted Dr. Tufton.
At the same time, the Minister made it clear that "CODE CARE is not hiring overseas nurses to replace local nurses, as some are suggesting".
"It's about increasing capacity that we are short on or don't have, while giving the nurses options which many are seeking," he said.
In addition to the signing of the agreements, Minister Tufton, who is in the US on official business until the end of September, has participated in a breakfast event in New York for the Partnership for Maternal, Newborn and Child Health Accountability, as well as the 43rd Meeting of the Council for Human and Social Development; the 30th Pan American Sanitary Conference; and the 171st Session of the PAHO Executive Committee in Washington DC.
-END-
UHealth signing cap:
Minister of Health & Wellness Dr. the Hon. Christopher Tufton (third from right) with (from left) Dr. Dipen Parekh, Chief Operating Officer, University of Miami Health; Dr. Chad Ritch, Associate Director, University of Miami Health International; Dr. Henri Ford Dean, Miller School of Medicine; Dr. Tanya Clarke, president, UWI Medical Alumni Association - South Florida; and Oliver Mair, Consul General to Miami.