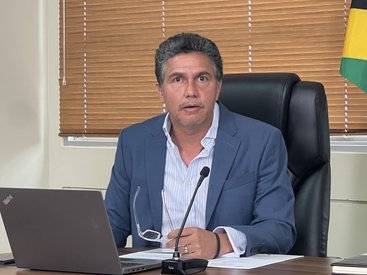 CRH to provide new & expanded services
March 7, 2023
Amenities to improve following build out of modern facility  
KINGSTON, Jamaica. Tuesday, March 7, 2023: New and expanded healthcare services are set to be on offer at the Cornwall Regional Hospital following reconstruction at the facility.
The public hospital, now on the cusp of rehabilitative and redevelopment works valuing more than $10.5 billion is to provide a range of 35 services.
"The Cornwall Regional Hospital will be the only public hospital in combination with the Western Child and Adolescent Hospital to offer the full gamut of Type A services," said Chief Medical Officer, Dr. Jacquiline Bisasor McKenzie during a press conference this morning. 

The Type A services comprise internal medicine; 10 subspecialties of medicine including nephrology, cardiology and infectious disease; and 7 subspecialties of general surgery to include neurosurgery, cardiothoracic surgery and ophthalmology.
Radiation/Oncology, Obstetrics and Gynaecology will continue to be on offer.
The Western Child and Adolescent Hospital, which will be integrated into the overhauled hospital facility, will provide services in Paediatrics and Neonatology.

"The new services which will be added to Cornwall Regional over time are pulmonology; neurology, gastroenterology; endocrinology; facio maxillary surgery, Gynae-Oncology, and reproductive endocrinology," the CMO continued.

"The expansion of services and introduction of new services will be done on a phased basis," Dr. Bisasor McKenzie noted.

"In addition, the two hospitals on the compound will feature paediatric subspecialties, adolescent services and the second paediatric emergency room in the island. It is expected that the two hospitals on the compound will together provide the largest combination of services in the island," the CMO added.
The build out of infrastructure at the hospital will include a new Maternity Suite, Intensive Care Unit, Accident and Emergency Department, Nursery and Operating Theatres. The facility will also be refurbished with new technology and fitted with infection, prevention control finishes.  
-30-